Winding Down, Michaels Love, New Year Thoughts
WHEW!
I hope everyone is, like me, winding down from the holiday, winding down but still remembering little things. Things  that maybe were overlooked in the busy and distracted moments of cooking and eating, wrapping and unwrapping, giving and receiving.  Moments like this one – listening to a playlist that includes selections from Who's Next at a get together and hearing a friend saying that it was the first album he ever bought, which set off a rash of air guitar playing,  Pete Townsend impersonations and "remember whens?"  Since most of us are, ahem, vintage, our enthusiasm far outweighs our ability but it makes me smile to think of it and no one broke a hip. 😉
 Holiday time is relatively low key around the iknead bunch, with 99% of the attention focused on the littles.     We facetimed the Bangkok branch for Santa in real time – very cool.  Fun!  Isn't technology wonderful?!
SCORE!!
CeCe and I hit Michaels this morning – 70% off canvases, 55% off Christmas, 50% off any regularly priced item – couldn't pass it up!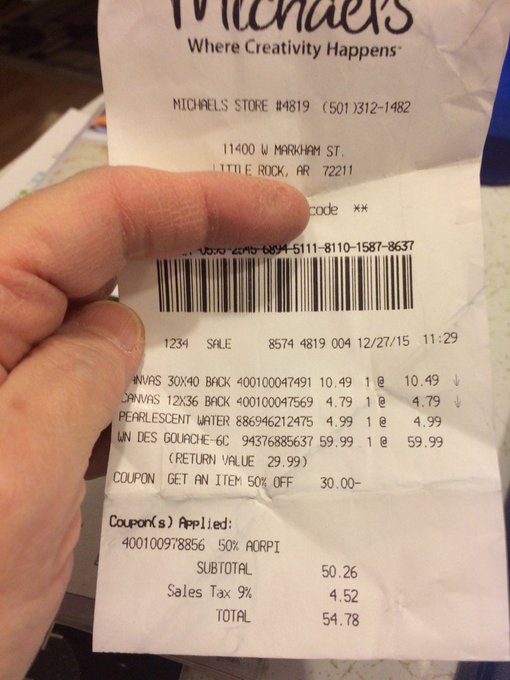 NEW YEAR GOALS OR INTENTIONS?
I prefer intentions, but this is probably one of those toe-MAY-toe/toe-MA-toe kind of things, I just think that intention is more open ended, with things to incorporate and continue, while goals are something to work toward, with a clear beginning, middle and end.  It all depends on the spin, I suppose.  Here are some of my 2016 intentions, in no particular order:
Pay it forward more often.
Clean as I go.
Develop more patience.
Remember that there's a fine line between enthusiasm and spontaneity and those "Hey! Hold my beer!" moments.
Be kind.
Be kind.
Be kind.
What do your thoughts turn to as the year is winding down?  Goals or intentions?  Physical, mental or spiritual? Self directed or other directed?  Just curious.
I'm linking up with these great parties today –
"If it had grown up," she said to herself, "it would have made a dreadfully ugly child; but it makes rather a handsome pig, I think."  Lewis Carroll
B